Sale!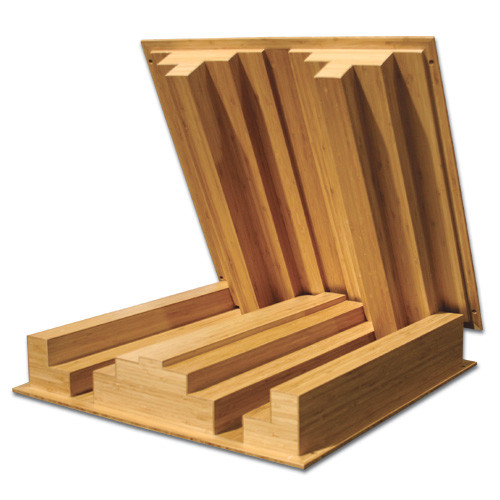 Auralex QuadraTec Diffuser (2 Pieces)
While not in the same performance class as premium 1D diffusers (like the Diffractal by RPG), the Auralex QuadraTec is more affordable than many wood diffusers. Thanks to its bamboo construction, it's also a greener option than diffusers that are made from materials like expanded polystyrene. If you want a fresh alternative to the classic QRD diffuser, the QuadraTec has a simple, natural, modern look.
The QuadraTec's unique tiered design provides favourable scattering properties to help you control reflections and achieve a musical ambience. The nested pair offers two unique diffusion tools that, when used in combination, can help you achieve a more spacious feel in your room. Like the WavePrism, the lightweight design also allows QuadraTec diffusors to be placed in suspended ceiling grids or attached to walls. However, they are typically used on walls rather than on ceilings.
Use 1D diffusers when you want to scatter sound in a single plane.  For ceilings, 2D diffusers like the WavePrism are usually the better choice.
Serving both American and Canadian customers. Prices are in US dollars.
Additional Information
| | |
| --- | --- |
| Dimensions | 23 ¾" x 23 ¾" x 6″ |
| Material | Bamboo |
| Quantity | Two (2) Diffusers |
| Manufacturer | Auralex |